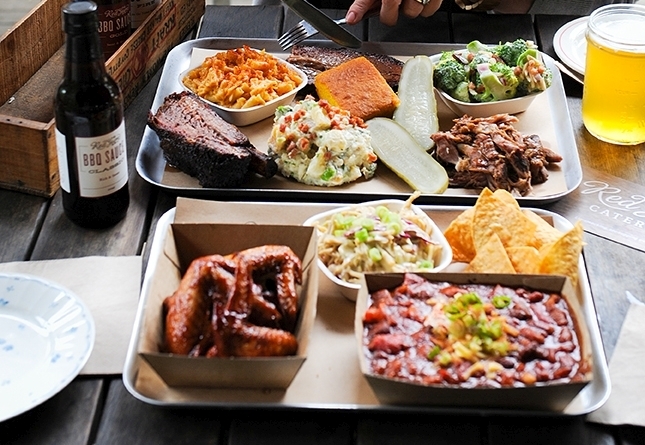 Bountiful BBQs
Join Bay Fish N Trips on fishing trip adventure departing at the Mornington Pier at 10 am. Venture out onto Port Phillip Bay in the historical vessel Plover, housed with modern facilities, for a five hour charter to catch some fish and to enjoy the other delights of this natural environment. A sumptuous BBQ lunch and light refreshments are included on every trip.
After returning to Mornington you can then make your way to Red Gum BBQ, only a 20 minute drive. Australia's BBQ Mecca and the Peninsula's coolest BBQ & Beer Hall. Here you can enjoy a scrumptious Share Platter with an optional craft beer tasting paddle.
BBQ on board Plover includes:
BBQ with choice of a tender Porterhouse steak, beef sausages (2), a fish patty (sweet potato & fish) or a gourmet vegetarian burger (lentils & seasonal veggies) in a sandwich with caramelised onion, crispy green salad and ripened tomatoes. Please order your protein at the time of booking.
Snack - a lamington cake
Drinks - tea (Black, Oolong, Green, Peppermint), coffee (Nescafe Espresso) and cordial.
Red Gum BBQ platter:
Beef Brisket and Pulled Pork, coleslaw, broccoli salad, cornbread, dill pickle and a chocolate Brownie.
All beverages available at bar prices
Optional $10 Tasting Paddle
The package suits groups of 2 to 10 people.
Price: $115 per adult or $125 per adult with tasting paddle.
Alternatively for larger groups of 10 to 20 people, enjoy the same fishing experience with a BBQ on board the Plover then savour the delights of the Red Gum BBQ's set menu (Beef Brisket, Pulled Pork or Chicken, Coleslaw, cornbread, dill pickle and two extra sides of either potato salad, beans, broccoli salad, mac & cheese or fries).
Price: $125 per adult
Available – Wednesday, Thursday or Friday (during Spring/Summer)
Call Sandra, Bay Fish N Trips on 0418 349 364 for other information or to book your package.
NB. Subject to availability. Fishing trip is weather dependent - if cancelled due to inclement weather, money for the trip will be refunded and suggestions made for an alternative activity. Not available on Public Holidays.